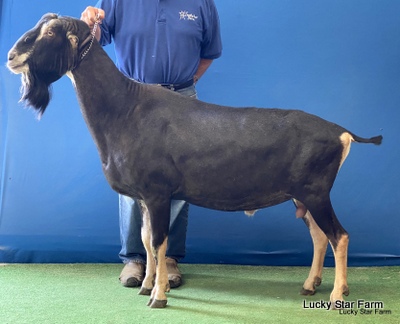 Jax as a 3 year old-- He just keeps getting better!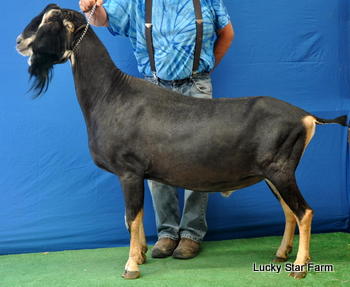 Jax as a 2 year old-- very large pretty boy.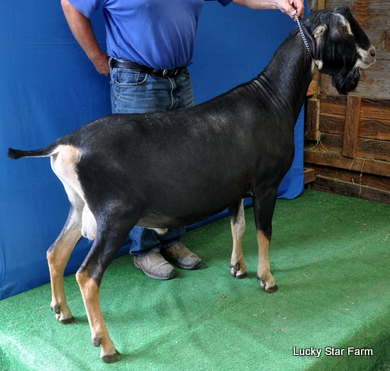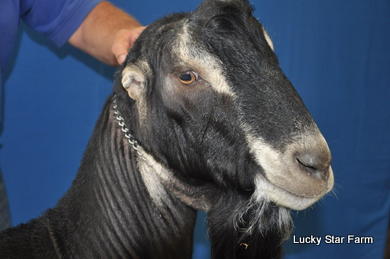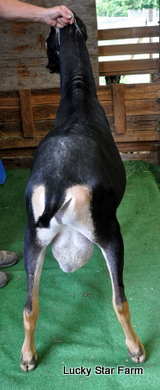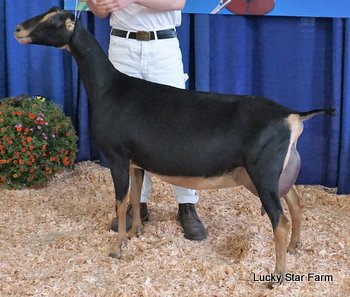 Jax as a yearling and Haiku, his dam, at a Washington State Fair- Fall 2018.
---
Lugosi
*B Huricane-PM Sun Watcher
*B Huricane-PM HSW Decadent
SGCH Huricane-PM EGM Sorbet 3*M
*B Lucky*Star's HD Lugosi
+B Mint-Leaf Elmsley
SG Lucky*Star's ME Johansen 5*M LA 2-02 92 EEEE
SGCH Lucky*Star's LOT Vivian 4*M LA 94 EEEE
About Lugosi: DNA TYPED Alpha s1 Casein A/A
We have loved our last Vivian daughter, Johansen, since she was a young doe. Now that she milks will (on her way to her second 3,000 lactation with high componants) and appraises well (2-03 92 EEEE) we were very, very excited to be able to successfully AI her to Huricane-PM HSW Decadent with the intend of keeping a buck kid as a new Junior herd sire. He is everything we had hoped for.
His first daughters show the additional bone we had hoped for when we kept Lugosi and we plan to repeat some of this year's breedings and add a few new ones.
---
Major Magic
*B Jen-Mae-Ka Kids Anticipation DNA
*B Rockin-CB JA Legends of China DNA
SGCH Rockin-CB RZ Ceylon 8*M 5-04 LA 92 EEEE DNA
*B Rockin-CB RL Major Magic
++*B SG Lucky*Star's RY Adam LA 2-06 91 EEE DNA
SGCH Rockin-CB LSA First 10*M LA 3-05 92 EEEE DNA
(2019 National Champion and Breed Leader-Top Ten)
SGCH Lucky*Star's LX April Fool 9*M LA 4-05 91 VEEE DNA
About Magic: DNA Alpha s1 Casein is A/F
We have had such success with Rockin-CB bucks--- where else would we go for a new herdisire?
This buck has 7 amazing does in his up close pedigree-See pictures of 6 below.
We are very excited to start using him. He should have an amazing future.